Posted on August 31, 2023
The Bottom Line: Is Kindbody right for you? Kindbody offers modern and accessible fertility care in modern, tech-enabled clinics. Their best-in-class care offers data-driven care and a seamless patient experience to make an inherently complex process much easier.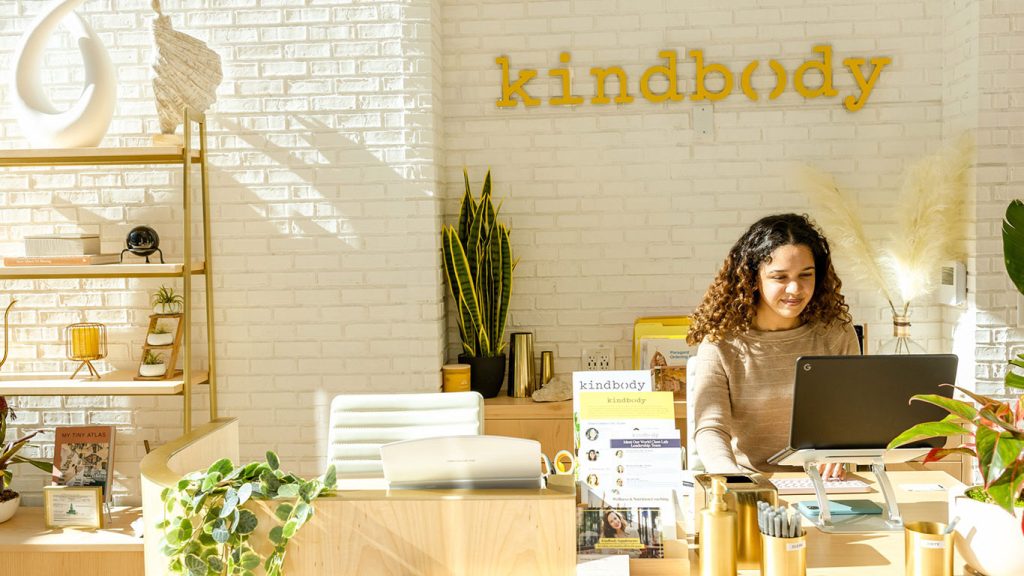 The Kindbody Essentials
Kindbody can be an excellent choice for a modern fertility clinic
Kindbody's core mission is to make the process of fertility care more intuitive and empowering with personalized care plans and data-driven decisions. What this means for their customers is that they are able to get the best possible care while still feeling in control of their own fertility journey.
When it comes to fertility care, there are a lot of options available to you. In today's modern world, you can go the traditional route and see a fertility specialist in person, or on the opposite end of the street you can try one of the best online fertility clinics like Kindbody.
In this review, we will take a look at the options and help you decide which is the best choice for your unique situation. If you already feel like you have a good handle on infertility, feel free to jump down, we won't judge!
| Procedure | Conception assessment | Reciprocal IVF assessment | IUI | IFV | Frozen embryo transfer | Egg thaw and transfer | IVF + Genetic testing |
| --- | --- | --- | --- | --- | --- | --- | --- |
| Description | A conception assessment looks into both the male and female's fertility.  | This is the assessment stage of IVF treatment, looking at the viability of the procedure | Intrauterine Insemination (IUI) involves directly placing sperm inside the uterus. | In Vitro Fertilization (IVF) is a process where eggs are retrieved and then fertilized. | This is the process for thawing embryos and transferring them into the uterus. | In this process, frozen eggs are thawed and placed into the uterus. | This adds genetic testing of viable embryos to the IVF process. |
| Cost | $300 | $350 | $1,700-2000 | $12,500-16,000 | $4,000-5,000 | $16,500-18,500 | $8,000-14,000 |
The Pros and Cons of Kindbody
Kindbody is widely available
Obviously, with any medical procedure, you want to be sure you're in good hands, and there are pros and cons to every fertility clinic. with Kindbody, some of the pros include:
Pros
Offers benefits for employers – Kindbody is the only fertility benefit solution that provides actual care, which means that employers negotiate directly with providers without needing to go through a third party.This can be a big selling point for companies who want to offer this type of benefit to their employees but don't want to deal with the hassle or expense of setting up their own fertility program.
Holistic wellbeing including therapy, coaching, and nutrition consultation – As part of their fertility care program, Kindbody offers patients access to a wide range of services to support their physical and mental wellbeing.This includes things like one-on-one therapy, group coaching, and even nutrition consultation.
Available in multiple cities – Kindbody is available in multiple cities, and we've listed all of them in the FAQ section at the end of this article.
24/7 cloud clinicians available – Kindbody is digital-first, meaning that you have access to care anytime, anywhere. You can also message your provider in-app 24/seven and get answers to all of your questions.
Cons
Additional pricing for blood works, genetic tests, embryo storage, etc – while Kindbody does include some of these services in their package prices, others (like blood work and embryo storage) are additional costs.
Not working with all insurance providers – While Kindbody is in-network with some insurance providers, they are not yet in-network with all of them. This means that you may have to pay out-of-pocket for some or all of your care.Overall, Kindbody offers a comprehensive and convenient fertility experience. If you're looking for a one-stop shop for all of your fertility needs, Kindbody may be a good option for you.
The History of Kindbody
Created for modern and accessible fertility care
Kindbody is a female-led, full-service fertility clinic that offers its customers access to convenient, affordable fertility backed by science. Kindbody was created to make fertility care more convenient, accessible, and affordable for women everywhere. The clinic offers a range of services, including IVF, egg freezing, gynecology, and wellness plans with the goal of helping women have healthier pregnancies.
Founded by Gina Bartasi, former Progyny Founder/CEO and the former head of Stanford Fertility & Reproductive Medicine, Kindbody is on a mission to demystify fertility and provide women with the support they need to take control of their reproductive health.
What separates Kindbody from other fertility clinics is their focus on providing fertility, gynecology, and wellness services in a cost-effective and technology-forward manner.
The clinic's goal is to provide women with everything they need to have a successful pregnancy and take control of their fertility using innovative health-tech solutions and expert staff.
Egg Freezing Basics
Freezing Your Eggs might be a Good Idea
Freezing human eggs has been possible since the late 1970s, but it wasn't until recently that the process became more accessible and affordable.
Egg freezing can be a great option for women who want to delay childbearing for medical or personal reasons. The procedure gives you the ability to have biological children later in life, without having to worry about your eggs deteriorating with age.
The use of frozen eggs in IVF has been proven to be effective, with 70% of women who froze eggs when they were younger than 38, and thawed at least 20 eggs at a later date, successfully having a child.
Now a common form of fertility intervention, egg freezing has become more accessible with the help of online fertility centers like Kindbody.
While the primary driver behind egg freezing remains the ability to increase the chances of becoming pregnant later in life as naturally declines, there is a range of other reasons to consider the service, including:
Medical procedures that affect fertility, such as chemotherapy – processes such as chemotherapy can often leave patients infertile, so freezing eggs beforehand can provide the chance to have a baby later.
Surgery-induced ovarian damage – some surgeries can cause ovaries to be damaged or removed, so freezing eggs may be the only way to have a baby post-surgery.
Early menopause – some women experience menopause earlier than average, which obviously impacts fertility. In this case, freezing eggs can provide the chance to still have a baby later in life.
PCOS and other reproductive disorders – disorders such as PCOS can impact fertility, so freezing eggs may be the best way to achieve a pregnancy.
Tubal ligation – this is a surgery that involves cutting or tying the Fallopian tubes, which obviously impacts fertility. If you have had this surgery and later want to have a baby, freezing eggs may be your best option.
Egg Freezing with KindBody
The egg-freezing process broken down
The egg-freezing process with Kindbody can be broken down into three steps:
Egg freezing assessment

The first step is a one-hour egg-freezing assessment, during which you'll meet with one of Kindbody's fertility specialists. They will review your medical history and perform a physical exam.You'll also have the opportunity to ask any questions you might have about egg freezing.

Egg retrieval procedure

The second step is the egg retrieval procedure. This takes 10-14 days, and during that time, your ovaries are stimulated to produce mature eggs. These eggs are then harvested through a minor surgical procedure. The procedure is a short outpatient procedure.

Cryopreservation

The third and final step is cryopreservation, where the eggs are frozen and stored in Kindbody's state-of-the-art cryogenic facility. They will remain there until you're ready to use them. When ready to use your eggs, they will be thawed and fertilized with sperm. The resulting embryos will be implanted in your uterus, and you'll carry the pregnancy to term.
The different procedures and their costs
The different steps of Kindbody's procedure
If you decide to move forward with treatment, you'll be matched with a care team that will support you throughout the process. Some of the fertility services offered by Kindbody include:
IUI treatments 

Intrauterine insemination (IUI) is a fertility treatment that involves placing sperm inside the uterus to facilitate fertilization.

Kindbody IVF treatments

In vitro fertilization (IVF) is a fertility treatment that involves retrieving eggs from the ovaries, fertilizing them in a lab, and then transferring the embryos into the uterus.

Clomid

Clomiphene (Clomid) is a medication that can be used to induce ovulation.

Timed intercourse advice

Timed intercourse is a fertility treatment that involves having sex at the most opportune time during the menstrual cycle to increase the chances of conception.

Gynecology services

In addition to fertility treatments, Kindbody also offers gynecology services.

Wellness plans

Lastly, Kindbody has a variety of wellness plans to help support your fertility journey
What else does Kindbody offer?
Kindbody also offers additional treatments
In addition to IVF and egg freezing, Kindbody also offers:
Male Fertility Consultation With Semen Analysis

This service covers a consultation with a fertility specialist and a semen analysis test to check the health of sperm. The consultation is free in-network with insurance and $350 if paid out-of-pocket.

Gynecology plans

These wellness plans offer an annual pelvic exam, Pap smear, and breast exam for $250 per visit or a one-off gynecology consultation for the same price.
Reviews of Kindbody from around the web
Here's what customers had to say
We like to balance our review with other reviews around the web. Our experience isn't everyone's experience. Here are a few more data points to help you make an informed decision to take the next step.
Kindbody vs Oma Fertility vs Spring Fertility
We look at some other options
We looked the differences between Kindbody, Oma, and Spring, three of the most interesting fertility clinics out there. Here is a comparison chart that we hope will help you find the solution that is best for you
| Best fertility clinics | Kindbody | Oma Fertility | Spring Fertility |
| --- | --- | --- | --- |
| Fertility services | ✅ | ❌ | ✅ |
| IVF cost | $12,500-16,000 | $9,000 | $3,900-$4,900 |
| Egg freezing cost | $6,950-7,900 | $2,000 | $2,940 |
| Eggs/embryo/sperm donors available? | ❌ | ❌ | ✅ |
| Gestational carriers available? | ❌ | ❌ | ✅ |
| Holistic care? | - Wellness & Therapy - Nutrition Consultation - Guided Meditation | ❌ | ❌ |
| Blood works included in the pricing? | ❌ | ❌ | ❌ |
| Employer benefits? | ✅ | ❌ | ❌ |
| Accepts insurance? | ???? yes but not all providers | ❌ | ???? yes but not all providers |
| Locations | New York, NY (2 locations) Princeton, NJ Austin, TX Orlando, FL Atlanta, GA Austin, TX Denver, CO Chicago, IL (7 locations) Swansea, IL Appleton, WI Milwaukee, WI Minneapolis, MN Southfield, MI St.Louis, MO O'Fallon, MO Los Angeles, CA (2 locations) Bay Area, CA (2 locations) Vancouver, WA | Santa Barbara St. Louis | San Francisco New York Oakland Silicon Valley Canada |
| | | | |
| | | | |
| | | | |
| | | | |
| | | | |
| | | | |
| Key: ✅ (Yes), ❌ (No), ???? (Indefinite) | | | |
The Verdict
Our experience with Kindbody
Kindbody is part of a new wave of fertility centers that are trying to make the process of starting a family more accessible and less taboo. We love that they offer a la carte services like egg freezing and IVF, so you only pay for what you need.
The bottom line – if you're looking for a full-service fertility clinic that supports you in every step of your family-building journey, Kindbody is definitely worth considering.
The only caveat is that they are only located in certain cities, and only work with certain insurance providers, meaning your location and insurance coverage may dictate whether or not Kindbody is an option for you.
Is Kindbody Legit?
We'll walk you through our experience
Kindbody is a legitimate fertility clinic as part of your fertility journey. The first step in getting started with Kindbody is to schedule an initial consultation. This is done through their Patient Portal.
The signup process is simple and intuitive, and you will be required to fill out an intake assessment form which will help the team understand your current situation.
You will be asked questions about your medical history, family history, and lifestyle choices. The more information you can provide, the better. This will help the Kindbody team create a tailored plan for you.
During the initial consultation, you will meet with a fertility specialist who will review your medical history and discuss your fertility goals. They will also develop a personalized treatment plan for you.
Frequently asked Questions